Stanton W. Mead Education and Visitor Center
Concept Drawing

Completed Facility
Click on the images above to see an enlarged view
at the
Mead Wildlife Area DNR Headquarters
S2148 County Highway S Milladore, WI 54454 715-457-6771
Click on the map below to see an enlarged view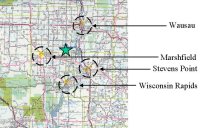 The Mead Education & Visitor Center is centrally located, midway between these central Wisconsin communities:
Wausau: about 20 miles southwest of Wausau on County S, south of County C, west of Highway 34 & I-39.
Stevens Point: about 25 miles northwest of Stevens Point, on County S, north of Highway 10, west of I-39.
Marshfield: about 10 miles east of Marshfield, on County S, north of County Highway H or Highway 10.
Wisconsin Rapids: about 20 miles north of Wisconsin Rapids, on County S, north of Highway 10, west of Highway 34 or East of Highway 13.
Click Here or on the image below for information about the Mead Project's LEED-Platinum green building certification
Click on the images below for links to other pages about the Mead facility
Overview & Background:
The Mead Wildlife Area in central Wisconsin comprises approximately 28,000 acres in both Portage and Marathon Counties. It is located midway between Wausau, Stevens Point, Wisconsin Rapids and Marshfield, along with a number of nearby smaller communities. Approximately 35,000 K-12 students are located in communities within 25 miles of the proposed facility. In anticipation of the new facility, student have incresded dramatically. The Mead staff has been active in bringing programs to area schools and are rapidly developing complementary programs in cooperation with the numerous school forest and environmental education programs in area communities and school districts. Also nearby is the UW-SP College of Natural Resources and the Wisconsin Center for Environmental Education.

The proposed facility was originally intended as a headquarters office for a small DNR staff. A local community-based group of users, the Friends of the Mead McMillan Association Inc., has been raising private funds to add an education classroom component to the facility. In January 2002, the State Building Commission approved funding for the facility, with a pledge of funds from the Friends group for the classroom portion, and a provision for an expanded classroom with kitchen and wetlab area if additional private funds are raised. The required private funds, plus an additional $70,000, were raised by the time the project was approved and additional funds are still being raised. Most importantly, significant in-kind donations of building materials and services were received, in excess of $1,200,000.

A main aspect of the Friends' group interest is to use the facility itself as an education tool.

The Mead Wildlife Area is the third largest wildlife area in the State of Wisconsin and is experiencing increased usage and interest by school groups and the general public. Due to its central location and highly-visible fundraising campaign, local awareness has increased dramatically and the Mead staff expects a significant increase in visitor traffic once the facility is built.

With the facility's comparatively small size and its central location, the use of a number of renewable and sustainable technologies was appropriate for the facility. The incorporation of these technologies serves two purposes.

First, a number of renewable energy technologies were explored for their feasibility in contributing to the building's annual and seasonal operating performance and several of these were selected as major building heating, cooling, or electrical systems. Second, these same technologies were explored for their applicability as a hands-on demonstration of each technology as a learning tool, even if they are secondary in nature to the primary systems.

The facility itself is designed as an example of sustainable and environmentally-responsible construction. The building shell has a high-performance exterior envelope, with special attention to air-sealing details and insulation levels. Materials were evaluated for their environmental impact and took into account local availability, recycled content, toxic components, durability and resource depletion. The facility incorporates the principles of cool daylighting and natural lighting. The use of advanced lighting techniques and controls is also included.

The building is pursuing a LEED green building certification through the U.S. Green Building Council.
Design Program & Project Budget:

The project was originally envisioned as a 3700 square foot office building estimated at $82 per square foot. With site work, fees, furnishings and equipment, the total budget approved by the State Building Commission was $722,1000, of which $547,900 was for construction.

Total State funds committed were $606,600, with an additional $115,500 to be provided through private fundraising by the Friends of Mead McMillan, Inc., a non-profit organization. The private funds were earmarked for offsetting the additional cost of including a classroom for environmental education purposes.

The original building estimate and budget clearly would not have allowed for building a high-performance building, nor would it allow for other than basic conventional mechanical and electrical systems. Due to the successful private fundraising effort, additional funds were earmarked to increase the size of the facility at a more realistic $120 per square foot, incorporate high-performance building features and renewable energy systems. In addition the project is pursuing a LEED certification of the facility, probably at the Silver level.

The Friends group, having already successfully raised the initially-required funds, undertook a major fundraising effort to expand the size and mission of the facility. Due to the success of this effort, the Friends' intent was to make this facility a showcase of sustainable building technologies and to use the building itself as a learning tool. To this end they raised additional funds to increase the size of the facility, incorporate high-performance building features and renewable energy systems.

The completed design is a 6,208 square foot facility with expanded classroom, kitchen, and interpretive display areas. The construction cost was approximately $1.5 Million, including the renewable energy systems.
Sustainable Design Features:
The facility incorporates the principles of cool daylighting, natural lighting, advanced lighting techniques and controls and a high-performance building envelope. The project received consulting assistance through the Energy Center of Wisconsin to review the daylighting and advanced lighting strategies for the building and also to assist with fundamental building commissioning in anticipation of pursuing a LEED green building certification through the U.S. Green Building Council.
Renewable Energy Features:
The Friends group received a matching funds grant from the Wisconsin DSARE pilot program to evaluate the feasibility of several renewable energy systems for the facility. The renewable energy systems studied included geothermal heat pumps for heating & cooling, central masonry heater for wood biomass heating, active solar domestic hot water heating, wind energy for electricity, and photovoltaic systems for electricity. All of these were evaluated for their sizing and cost and a number of systems were identified and prioritized for inclusion in the project. A $50,000 matching incentive grant from the Wisconsin Focus on Energy Program was received to help offset the capital costs of the 5 selected Renewable Energy systems. A $10,000 demonstration grant was also received, matched by locally-raised funds, to develop a teacher curriculum and interpretive materials for school children and other visitors. Renewable Energy systems incorporated into the Mead facility include:
Geothermal ground-source heat pump heating & cooling
10 KW wind energy turbine on 100' tower
2.3 KW pole-mounted tracking solar photovoltaic electricity array
3-panel ground-mounted solar hot water collector array
Wood-fired central masonry biomass heater w/hydronic exchanger
Public demonstration program:
Highly-visible public facility.
Showcase of exemplary building practices and the use of renewable energy systems.
Orientation, explanation and interpretation of high-performance building features and renewable energy systems to building occupants, visitors and general public.
Permanent fixed and moveable display panels to illustrate building construction features and renewable energy system features in a publicly-accessible location.
Energy modeling of building design and documentation of actual energy usage.
Brochures and educational materials about building features for visitors.
Volunteer and student-intern interpretive programs for school field trips, community groups and visitors.
Availability for inclusion on solar and energy-efficient building tours hosted by Midwest Renewable Energy Association and others.
Design Team expertise to ensure coordinated incorporation of sustainable building strategies:
LEED-accredited Architect to review building design for optimal utilization of cool daylighting and advanced lighting control techniques.
LEED-accredited Professional Engineer to review building and mechanical system design for optimal system performance and Fundamental Building Commissioning.
LEED-accredited Landscape Architect for sustainable site development.
Renewable Energy system consultants for incorporation of selected renewable energy systems into project.